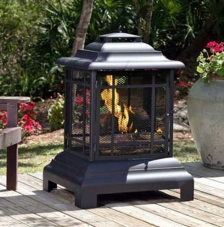 Outdoor & Indoor Fireplaces
Fire Pit Source offers a variety of outdoor fireplaces that are perfect for outdoor entertaining. These sturdy fireplaces make great accent pieces for your deck, patio or backyard and give your guests a beautiful centerpiece to gather around for those long conversations!
We also carry a quality selection of indoor electric fireplaces that will bring warmth and beauty to every room in your home! These attractive fireplaces conveniently plug into any household outlet and use low-voltage bulbs to increase bulb life. If you're looking for a more eco-friendly fireplace, check out our selection of ventless fireplaces that use gel fuel!
These attractive outdoor and indoor fireplaces are made with superior craftsmanship and quality so you and your family can enjoy the cozy warmth of your fireplace for years!
Outdoor & Indoor Fireplaces