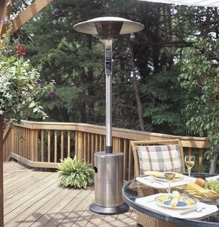 Patio Heaters & Flares
Colder weather doesn't have to mean the end of fun times in your backyard. Gas patio heaters can warm chilly autumn air enough to enjoy an evening barbecue or morning cup of coffee in comfort. These outdoor heaters make a great addition to your deck, patio or backyard and provide a large radius of warmth for your family and guests.
Patio heaters also make a great addition to commercial restaurant settings. Add extra warmth to keep your patrons comfortable in your outdoor eating and waiting areas. These heavy duty outdoor heaters will ensure many warm, comfortable nights of entertaining!
Visit our accessories page to find great extras for your new patio heater!